Plastic Drums & Barrels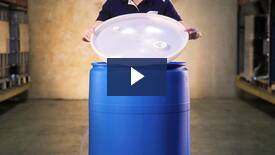 Plastic Drums and Plastic Barrels from 15 gallon to 55 gallon (Salvage Plastic Drums up to 95 gallon). Plastic drums are made out of HDPE (High Density Polyethylene), and most are UN Certified as well as FDA Approved. Both new and reconditioned drums available in open head and tight head style. Open Head Plastic Drums come nestable (tapered) or straight sided.
Can't find the Plastic Drum or Barrel you're looking for? We can help! Contact us for more details.