Industrial Cord and Cable Protectors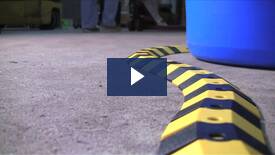 The Cary Company offers the Sidewinder Cable Protection System™. This system is an excellent solution for protecting any cords or cables that run across your floors. This flexible cord cover can easily bend left and right, making it easy to turn corners and adapt to the layout of the room.
The cord protector is a great way to provide safety for pedestrians and is able to easily be snapped together. Able to coil up around a three foot diameter, it also provides great portability or remain in place.
Having trouble finding the specific Industrial Cord and Cable Protector you're looking for? We can help, contact us for more details.