Deep Slip Cover Cans (Labeled)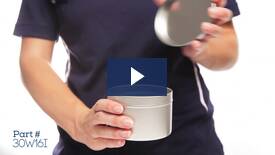 Slip cover cans are ideal for holding lab samples, candles, inks, jewelry, powders, pastes, crafts and some food applications. The deep slip cover cans and lids are sold separately. Sizes for the slip cover range from 1 oz to 4 lbs. Lids can be labeled in the paper disk in the middle of the lid that is held in place by a metal border.
Contact us for more information on which Slip Cover Cans are food grade.