Deep Slip Cover Cans (Plain)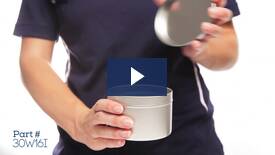 Slip cover cans are ideal for holding lab samples, candles, inks, powders, pastes, crafts and some food applications. Plain deep slip cover cans may be purchased with lid or without lid (lid sold separately). Sizes for the plain deep slip cover range from 1 oz to 10 lbs. Lids are not labeled.
Contact us for more information on which Slip Cover Cans are food grade.