Induction Sealing Machine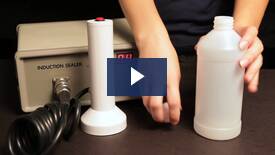 Induction Sealing Machines help prevent leaks, preserve freshness, and provide tamper evident closures. Manual, hand-held Induction Sealing Machines are available and can be used to seal various cap sizes. Induction Sealing Machines are designed to close 10mm-53mm, 28mm-70mm, 10mm-70mm, and 63mm-120mm size caps and closures.
Replacement heads are also available for Induction Sealing Machine models. Please note: Sample caps & bottles will be required for testing to assure tool works with the caps being used.
Can't find the Induction Sealing Machine you're looking for? We can probably source it for you. Contact us for more details.