Teal-Sorb AC Acid Absorbing Powder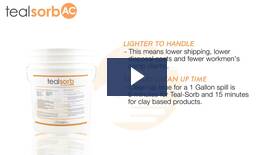 Teal-Sorb AC is an engineered mineral acid absorbent and is specifically designed to neutralize and absorb acid spills (except hydrofluoric acid). Teal-Sorb AC is a unique product that undergoes a color change throughout the absorption process.
The absorbent powder turns purple on first contact and after the reaction is complete, will change back into a yellow color. Teal-Sorb AC clumps acid spills into a manageable solid for easier cleanup and does not leave post-cleanup residue. The Teal-Sorb AC is lightweight and exceptionally absorbent; can absorb 3 times its own weight (12 lbs per 5-gallon bag) in liquid. Please note: Never absorb hydrofluoric acid with any Teal-Sorb product.
Check out our Compatibility Chart to find out which Teal-Sorb product is right for you.
Can't find the disinfecting absorbent product you're looking for? We can help! Contact us for more details.