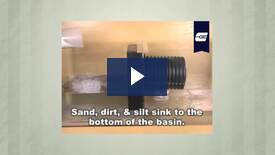 Oil & Debris Blockers are made of polyethylene and will not rust or corrode. Oil & Debris Blockers prevent contaminants from entering stormwater outflow. The Oil & Debris Blocker is designed to push water through the bottom of the blocker, while the contaminants remain out of the outflow and on the surface of the water.
Oil & Debris blockers with 8", 10", and 12" pipe openings are offered. Blockers come available with left, right, or center pipe orientations. Adapters for 10" and 12" pipes also available.
Can't find the Oil & Debris Screen you're looking for? We can help! Contact us for more details.